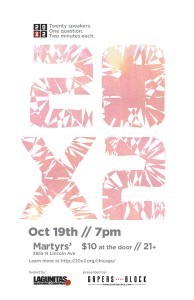 The question at last night's inaugural 20×2 Chicago was
How could you?
Now, the question was interpreted in many ways, using many tools and tones, by many people, including writers, filmmakers, movers and shakers of the online world from near and far. Each story was crafted from relevance only the engaged and active participants could muster. I was honored to be among the hundreds in attendance, and even moreso to share the stage with such talented folks, and look forward to the next opportunity to contribute to the incredible cultural vitality of this city.
I accompanied Ms. Agerbeck on my trusty upright bass, Hawkes, as we attempted to synthesize Synesthesia, a neurological condition in which stimulation of one sensory or cognitive pathway leads to automatic, involuntary experiences in a second sensory or cognitive pathway. People who report such experiences are known as synesthetes. Recently, difficulties have been recognized in finding an adequate definition of synesthesia, but last night we gave it our own go at it. As I played, Brandy drew her visual interpretation of the sounds in color and texture on a huge whiteboard. Big shout of Thanks to Martyr's sound engineer, Ted, who did an amazing job of dialing in Hawkes' sound – could not have done it better myself – thanks, man! We were very pleased with our contribution to the night's answers.
Others delivered stories both fictional and non-fictional, poetic and iconoclastic, each derived from an assortment of unique experience and humor. Each of the 20 answers were as different as could be. There are far too many highlights to mention them all but suffice it to say it was, for me, an entry into a town I moved to over two years ago and have only just begun to discover. Special thanks to Andrew Huff and his team at Gaper's Block for putting it all together and the Austin fellas for making the night something to remember.