Perceptions sure are funny things. Everything depends on them. Especially outcomes. This is one for the memory banks.
Here is some context: last weekend, my little boy and I had just gotten home. We were unloading our bikes from the day's festivities (it was Memorial Day Weekend), carrying stuff back into the house: he his stuffed animals, water bottle, toys, and treats, while I carried in the picnic lunchins, blanket, camera, etc. That's when a woman came to the back fence and asked, "Does this little girl belong to you?"
Dash and I went to the gate. We found ourselves looking at an adorable little girl, probably 2, along with a woman and her daughter, maybe 7 years old, holding their dog on a leash.
I asked, "This little one, here? She's not with anyone?"
"I found her at the end of the alley," the woman replied. Our alley is a quaint dirt road that runs behind a row of houses on a residential street here in a quiet part of Evanston. Generally safe but not for a 2-year-old all alone. There is a minimal amount of residential traffic but it is traffic, nonetheless. How did this little girl get here and where were her people?
"I'm calling 9-1-1," the woman said, and took her phone out of her pocket.
"Wait," I said. I looked at the little girl and said, "let's see if we aren't able to find your people first, huh?"
The woman held her phone handy but seemed almost miffed.
My mind was full of thoughts at this point but I will get back to that.
First thing was first, I took Dash by the hand and we went out of the gate to the little girl.
Dash walked right up to her and took her hand. I just love how kids often act way more calm, cool, and collected than adults when the pressure is on.
At this point, I had Dash's hand and he had the little girl's hand as we stood behind the house with the woman, her daughter, and their dog looking on. I asked the little girl, "Where is everybody?"
She was cool as a cucumber. Not visibly worried at all. She pointed.
I said, "Let's go find 'em, shall we?"
Surest thing you know, the little one looked at Dash and started walking. The three of us sauntered along. As we were walking, Dash began to sing and hum. If anyone was worried, it wasn't us. The little girl smiled big at Dash as he hummed and chortled down the way until, three houses down, the girl led us up to another gate, this one slightly ajar. Wouldn't you know it, just wide enough for a little girl to get through.
The woman, her daughter, and their dog were right behind us and she shouted, "EXCUSE ME!!! EXCUSE ME!!!"
A woman came to the screen door, then out onto the deck and said, "Yes?"
"IS THIS LITTLE GIRL IN THE RIGHT PLACE?"
The woman on the deck looked REALLY confused. She had been given no context, whatsoever. That's when I spoke up.
"Hi," I said, "I'm sorry to interrupt you. Do you have a moment?"
"Sure," she said, and came down the steps, across the yard to the gate.
By the time anyone started saying anything at all in this, the little girl had already wiggled back inside the gate, still holding Dash's hand. I said, "Stick around, please," and he let go, though, not without some reticence. He wanted to follow her but was a good sport about it.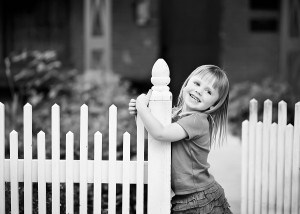 The woman came to the gate and the woman behind me said, "WE FOUND THIS LITTLE GIRL AT THE END OF THE ALLEY WITHOUT ANY SUPERVISION," in a most confrontational tone. The woman behind the gate looked stunned. All she knew was that, last she probably knew, the little girl was inside the fence and now, as if she had never left, appeared to STILL be inside the fence.
I said, "See here?" I drew her attention to the gateway, that it opened against a railroad tie along a small garden bed outside the gate but just enough that her little girl could get out.
"Oh my!" said the woman. She looked down sweetly at her little girl, now standing just on the other side of the fence from Dash. "23 months old? So that's when you made your first successful jailbreak?" The little girl flashed a big, toothy smile and ran back into the yard giggling. "I am so grateful! Thank you for finding her and getting her home safely! Thank you!" she said, looking down at Dash.
"Your welcome!" said Dash, two-year-old style. This kid!
The woman went back inside, calling after who I presume was her husband to secure the gateway and chuckling about the little girl's resourcefulness and good fortune to be found and back home safely.
I was grateful Dash and I were there. I was so surprised, though. I would expect another mother, especially, to be empathetic to another parent's wonky situation. Calling 9-1-1 as a first effort could have gone a number of different ways, mostly wrong. I could not conjure her logic, myself. The woman could not communicate with a two-year-old enough to figure out where she belonged? It seemed natural to me to make every effort to locate the little girl's home before creating such a drastic intervention. Why is my definition of best intentions so different? Calling the police on such a simple matter could have led to further misunderstanding, even so far as to get DFYS involved, creating unwarranted problems for that family. Who knows?
Communication is such an art form. Why is it so easy to misunderstand an audience? Does it take something special to apply empathy in a situation like that? I certainly felt, right away, "What would I feel like as the parent of this little one?" and "What is a logical explanation for this?" because no one would intentionally leave a two-year-old alone on their own like that. As a parent, I immediately felt there was something I could do to help. Calling the police was the last thing on my mind. How was it the first thing on hers? The snide way in which the woman spoke was also disappointing. I have on occasion witnessed the motherly competitiveness among females but this seemed waaay overblown. In addition, she also did not consider the woman she was shouting at had no context to answer her question of whether or not the little girl was "IN THE RIGHT PLACE."
Dash and I turned to walk home. The woman, her daughter, and their dog were already walking.
Dash and I were certainly in the right place that day. I was proud as can be. I loved the way he responded to that little girl in such a comforting and empathetic manner. I loved the way he pretty much shouted with glee, "You're welcome!" to her mother who genuinely thanked us, clearly surprised at what had happened. It could have happened to anyone.
As we walked, we caught up with the woman, her daughter, and their cute dog. Dash wanted to pet the dog but neither the woman nor the daughter made any gesture to facilitate it so we kept walking. "All's well that ends well," I said. Nothing. No one said anything, except Dash, who said, "High tower, papa?" which meant he wanted me to lift him up so he could ride on my shoulders. "Okay!" I said and lifted that sweet little boy up there.
Dash started to hum, again. We had helped our neighbors. We had shown compassion but even better – empathy. We were problem solvers. I was grateful we were there, grateful we could communicate well with both the little girl and her mother. We walked home but then kept on walking, onward around the neighborhood, into the evening, humming and chortling together, feeling good. Tall as towers.