Right before you got very ill, Mom, you had already made up your mind. You wanted no funeral. No wake. No trace left behind but the memories you built yourself with each of us. You wrote letters to us to be read after you were gone. You made every consideration to make sure we knew how much you loved us, right up until the very end. It was April 25th, 2013 when you left us but not before you gave us your last wish – to be sure and donate your body to those who would learn most from the offering. You chose the University of Iowa's Carver College of Medicine.
You were committed to learning throughout your whole life. When I was little in the late seventies, you insisted on enrolling me in a Montessori program, compelled by the merits of Dr. Maria Montessori's approach to learning as discovery, empowering each child to find their own way. You surrounded me with computers of all makes and models in the eighties, even as they were cost-prohibitive, having the foresight to prepare your son for the coming age of electronic education and commerce. You included me in anything and everything I showed inclination and interest in. Rather than being a nuisance to you, you encouraged my voracious curiosity and modeled an interest in learning about things as a strong character trait. Even in your last years you took computer classes, taught yourself to use the machine to send me letters, pictures and share your life with me even as I was very far away. Your influence on me to build my own fluencies allowed me to write blog posts, letters and send pictures back, and more, all in order to most effectively share my life with you across vast distances. You made up your mind, even at the very beginning of my life, to make learning how to learn a valuable thing, the centerpiece of the example you chose to set for your young son. I owe all I have learned and accomplished to your love, your example and the decisions you made on my behalf.
I am so proud to be your son, Mom. Thank you for being who you were. It is no small thing to have left such resonance behind for me to bask in, to carry on in the spirit you gave me, to keep learning and keep sharing. What tremendous gifts you have given me to share with my own little boy. It is because of the choices you made, such as always ensuring I had access to tools and experiences to optimize my opportunities to learn, that I have all the tools I need to accomplish whatever it is I set my mind to. You have done that so very well. Because of you I possess a great many fluencies. There is no way I could have known or recognized such insight until after you already willed them to me. My heart is filled with so much love and gratitude, Mom. Thank you.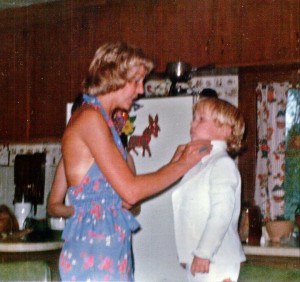 You built our culture on your own without any suggestion. It took a great deal of courage, especially back in your day when women had even less equality. Likewise, making the decision to donate your body, when the time came, to the Carver School of Medicine at the University of Iowa, was a mighty, selfless and generous choice. It is a testament to your will and to your love of learning and sharing that you are honored by them today. Each year, the school holds a memorial to honor and commemorate those who have been so generous and courageous to donate their most precious resource to furthering the learning of others.
I am grateful to you, Mom. Thank you for loving me so much as to embed your passion for learning deep into my culture, so deep, in fact, that it may be that singular greatest characteristic in me, one that has allowed me my own humble success in this life. Thanks to your influence in this way, I have always been able to find meaningful work with other gifted people, equally interested to further our cause. Your passion has empowered me to learn a great many things, not the least of which is adapting to and learning that which is best to accomplish any task with grace, style and craft. Exactly the way you would do it, Mom.
I love you. I miss you.