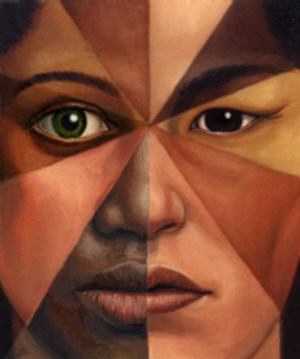 What do I know about diversity? I thought I knew something about race, gender, socio-economics, and my own identity in relationship to something larger than myself. Turns out I knew very little. I learned more from this past year than I ever imagined I did not know and am keeping my eyes and ears open to the lessons still resonating after a year of talking and thinking about such big, complicated concepts that touch each and every one of us.
Throughout this past year I was fortunate enough to participate in SEED. The National SEED Project  is the largest peer-led leadership development project in the US, engaging community members and leaders from all subject areas and geographic locations to create gender fair, multicultural, equitable, socioeconomically aware, and globally informed education.
SEED invites the engagement of ideas, experiences, and identity. As participants, we developed ways of understanding complex relations between ourselves and systems with regard to race, class, gender, sexual orientation, physical ability/disability, and other lived cultural experiences. Everyone who took part in SEED throughout the year engaged in diversity work in both familiar and unfamiliar ways. Some days were certainly more interesting than others, especially as the year wore on and we became more comfortable with each other, opening ourselves up to being more vulnerable and sharing huge things that have and are continuing to go on in our lives. In a word, the experience was transformational.
Diversity Director, Brian Corley, and Academic Director, Chris Ambroso, guided us through conversations and exercises as we described our own experiences and those of our community to widen and deepen our collective understanding of a more inclusive culture for everyone. Their approach validated our voices so we can, in turn, better value and validate the voices of others.
SEED differs from other diversity programs in that SEED leaders guide colleagues in experiential, interactive exercises and conversations inspired by films, literature, and our own experience in the real world. Each 3 hour session deepened our understanding of ourselves, expanded our knowledge of our roles in the world, perceptions, misconceptions, and pointed each of us towards a greater perspective of equity and inclusion.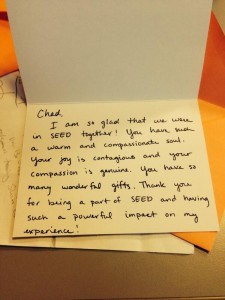 As the final session began to wind down, it was apparent each of the thirty or so of us who had spent the year together were slightly disappointed the year was over but happy for the insights we gained in the time we spent together. At the end, Brian asked each of us to write a modest and random thank you to someone for their contributions that may have made an impact on us throughout the year. Chris handed us each a small thank you card and envelope to take with us on our way out. It was a sobering moment.
We are all now hyper-aware of the obstacles to openness and inclusion that come up in simple communication between people, in the media, among our families, friends, and colleagues. Within the group, it was easy to make progress. Now, we head back into the ordinary world where such considerations are often completely lacking. As we discussed, it is a great challenge and one we each now feel more prepared to accept. Thank you Brian, Chris, NNMS, and SEED.