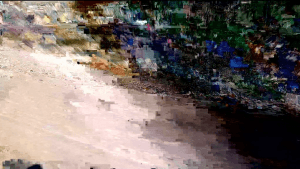 Many months ago, I set some time aside to paint with acrylics. It had been almost a year since I had last used the medium and was interested to do so for two primary reasons. First, I was working with a group of students to help illustrate for them the value of transmediation between digital and analog art forms, specifically in the context of visual literacy. Second, I just love to paint.
Unfortunately, I had stored the acrylics in a place where they got too cold and then too warm. They were ruined. I had not been mindful of taking care of those tools. Out of character for me but I had moved and some details (such as my acrylics) were left unattended to, so I should give myself a little break. Still, here I was with the time but – no tools. To go and acquire new acrylics would have eaten up most of the time I had set aside to actually paint.
I rolled with it. I realized that I had never, up to that point, ever experimented with creating art strictly digitally, outside of filmmaking, audio recording, and coding (face it, code is art). In the context of "painting" I had only ever used physical paint. Even though not a huge fan of the vast majority of digital "art" I have experienced, I set out anyways to see what I would do limiting myself to such tools as can be found on my laptop.
Out came pixelier – something actually interesting to me if only for the exercise of it. I had intended to print and mount it right away in the post I made to remember I had done it at all, however, time and life got into the mix and it is only now that I am getting around to it. It will look quite nice, I think, printed on acrylic and hung in my office, where it will remind me that some of our best attempts, especially the ones that find us less-than-prepared with proper tools, can set us up for the happy accident of exercise rather than fact. There is not much we can know for sure. Can making art be a simple act of being comfortable in what we do not know?