(most recent)
Sometimes smaller, niche communities are unsurprisingly more satisfying than behemoth conferences (or cons for short). MacDevOps, based in Vancouver, B.C. is one of my favorites because Mat, JD, and the gang have ideas (like the podcast they use to promote the con) that are as cool as the quality and broad spectrum of people and industries that are drawn to their con, MDOYVR, which focuses on integration of DevOps and DevSecOps practices into Apple culture.
My own satisfaction reached superb levels this year for a chance to talk about breaching ATS A.I. and how to use a 2-stage payload to break out of or into an industry. Here's the ~14-minute preso:
"BOOM –> Career Hacking: How To Break Into InfoSec" –> MacDevOpsYVR – Recorded live June 11, 2021, Zoom + Discord (IRL con is usually in beautiful Vancouver, BC, Canada).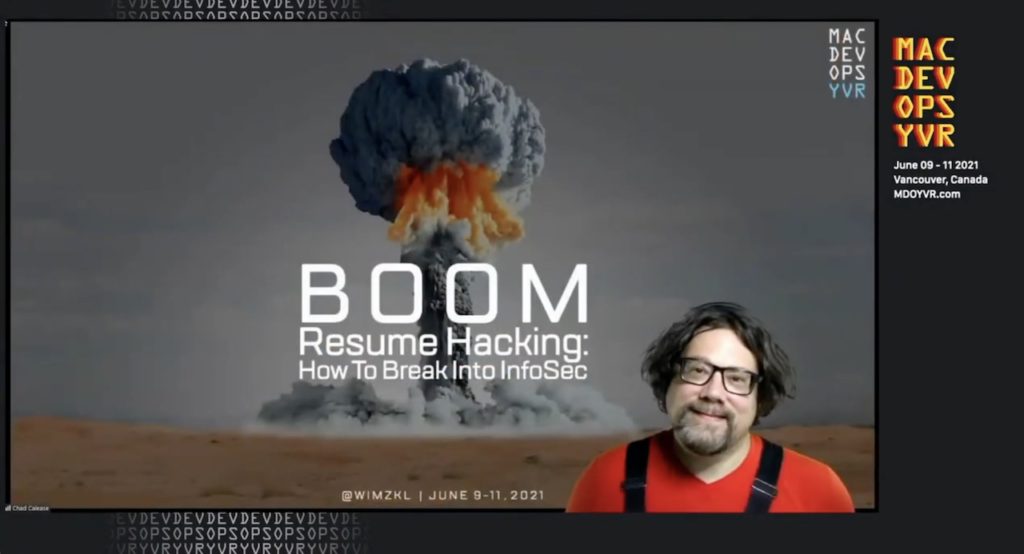 (some past faves)
Maybe I'm biased towards Canada? Unsure. Toronto hosts the Canadian version of DEFCON, called SecTor, and it's cool:
"A Few Things Right: Insights from Live & Simulated Incident Response Failures" –> SecTor – October 2019, Metro Toronto Convention Centre, Toronto, ON, Canada
Public speaking doesn't come easy for me but it's always worthwhile. Some of my favorite things to present on are more about people and ideas than infosec or technology.
"Neurodiversity as an Asset: The Upside to Thinking Just a Bit Differently" + Panelist – Autism Q & A: Neurodiversity in the Workplace –> DerbyCon 9.0 – Mental Health Hacking & Wellness Village – September 2019, Mariott Lousiville, Louisville, KY, USA
If my house was on fire and I had to save an operating system that's not Linux, I'd choose macos. There. I said it.
"A Few Things Right: Insights from Live & Simulated Incident Response Failures" –> MacTech – November 2018, Crowne Plaza and Marina, Redondo Beach, CA, USA
I enjoy hacker cons because they're the best place to challenge whatever it is I think I know and learn from a most nuanced community that is generally supportive, always curious, and wildly creative.
"Dear InfoSec: You Want Ketchup With That?" –> BSides Chicago – May 2018, Chicago Hilton, Chicago, IL, USA
It's only been in recent years I've become comfortable being associated with the term 'hacker' due to its negative connotations and misguided stereotypes. Hacking is not a crime. Crime is crime. Part of the solution to misunderstandings is better design decisions. I like to talk about that, too.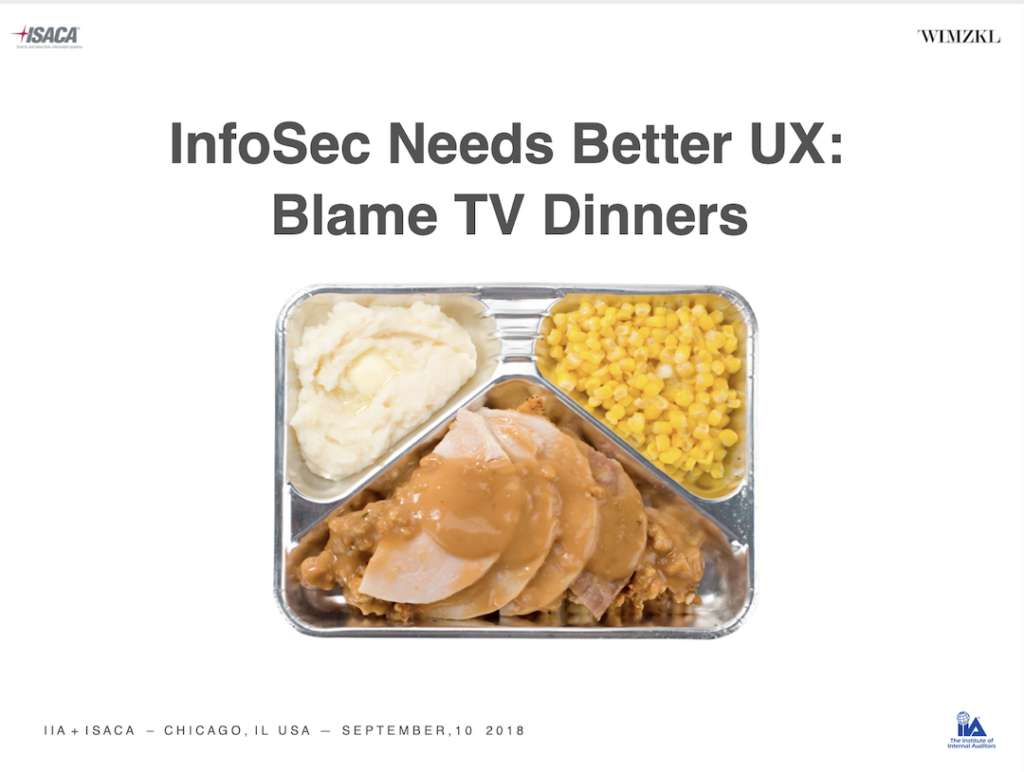 "InfoSec Needs Better UX: Blame TV Dinners" –> IIA/ISACA Cyber Security & Hacker Conference – September 2018, Swissôtel, Chicago, IL, USA