(some past faves)
Maybe I'm biased towards Canada?
Unsure.
I thinkToronto hosts what is arguably one of the best hacking conferences in thee world, maybe it's the Canadian version of DEF CON and it's cool like that especially thanks to my friend, Kim, who insisted I submit a talk:
"A Few Things Right: Insights from Live & Simulated Incident Response Failures" –> SecTor – October 2019, Metro Toronto Convention Centre, Toronto, ON, Canada
Public speaking doesn't come easy for me but it's always worthwhile. Some of my favorite things to present on are more about people and ideas than infosec or technology.
"Neurodiversity as an Asset: The Upside to Thinking Just a Bit Differently" + Panelist – Autism Q & A: Neurodiversity in the Workplace –> DerbyCon 9.0 – Mental Health Hacking & Wellness Village – September 2019, Mariott Lousiville, Louisville, KY, USA
If my house was on fire and I had to save an operating system that's not Linux, I'd choose macOS. There. I said it.
"A Few Things Right: Insights from Live & Simulated Incident Response Failures" –> MacTech – November 2018, Crowne Plaza and Marina, Redondo Beach, CA, USA
Hacking conferences are great places to challenge whatever I think I know and learn from nuanced and gifted communities (villages) that are generally supportive, always curious, and wildly creative.

It's easy to take hackers for granted. The ones not engaged in crime work in lockstep with it, working against that tide behind-the-scenes to help make the Internet a more predictable, accessible, and reliable place for their communities, for both work and play.
"Dear InfoSec: You Want Ketchup With That?" –> BSides Chicago – May 2018, Chicago Hilton, Chicago, IL, USA
It's only been in recent years I've become comfortable with the label 'hacker' due to so many negative connotations and stereotypes. Hacking isn't crime. Crime is crime. It's okay to hack our heath, finances, time, nutrition, and culinary efficiency, but the second someone hacks a device it's a crime?

Part of the solution to misunderstandings is telling more stories that help broaden perspectives and maybe even foster unity, which is more reslient, more about building atmospheres, environments that nudge us all towards good habits that protect ourselves and our own orbits of friends and loved ones.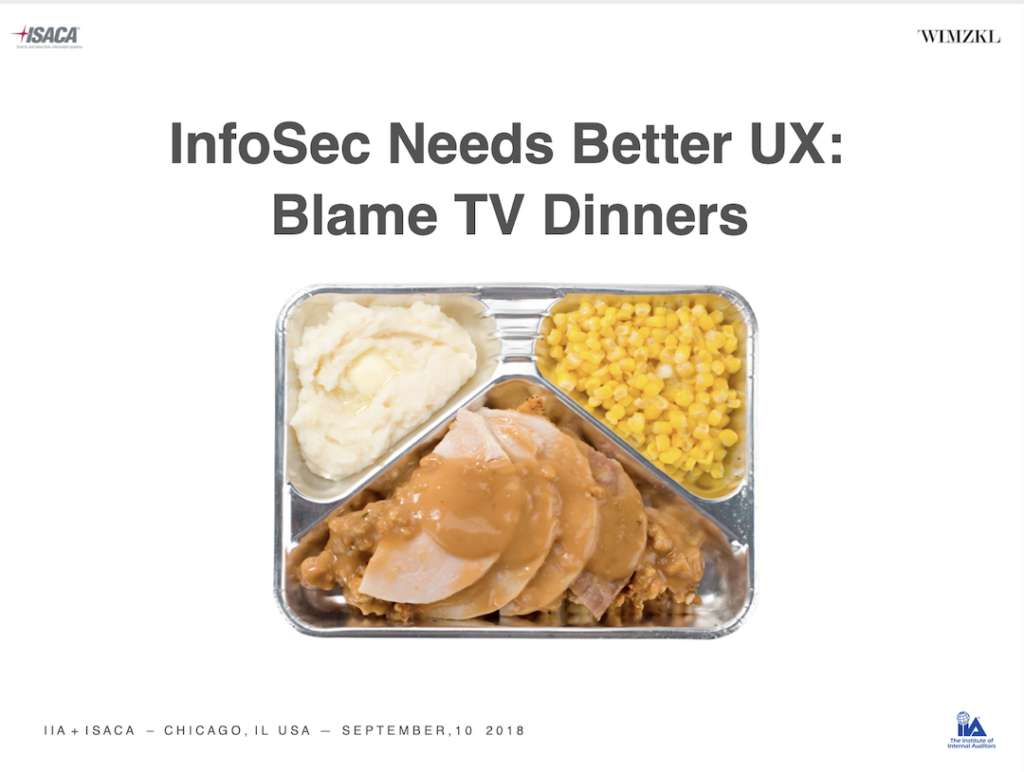 "InfoSec Needs Better UX: Blame TV Dinners" –> IIA/ISACA Cyber Security & Hacker Conference – September 2018, Swissôtel, Chicago, IL, USA