Out of the Top 100 Under-rated movies of the 1990's.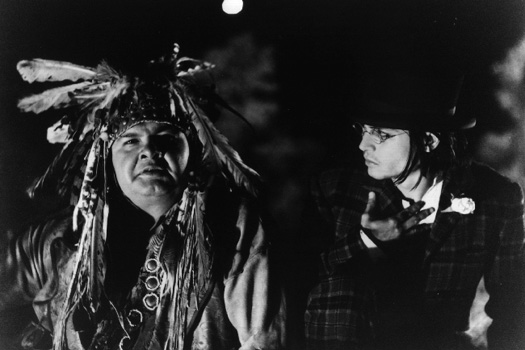 Jim Jarmusch took his bizarre indie surrealist show to the Wild West when he cast Johnny Depp as an accountant heading out across country in the mid-to-late 1800's to take a job in the frontier town of Machine. When said accountant arrives at the town, it's not only one of the bleakest, most depressing places you're likely to see on film, but the job he came out for is no longer on offer. With no money and no prospects, our hero finds himself responsible for a man's death, for which he is pursued through the countryside as a fugitive by a bizarre collection of bounty hunters, while an old William-Blake-quoting Native American called Nobody becomes an important new friend.
An amazing Neil Young soundtrack punctuates this truly anti-Western, complete with co-starring turns by Robert Mitchum, John Hurt, Crispin Glover, Gary Farmer, Gabriel Byrne, Lance Henriksen, Alfred Molina, Iggy Pop and Billy Bob Thornton, while haunting monochromatic photography and a first rate performance by Depp make this a movie to remember.
Sure, some audience members didn't get it, and still more never bought a ticket, but for those who seek originality in cinema, few can go past this truly enigmatic tale. (Chris Parry)