My old Canon ZR-40 has just about given up the ghost. the DV mechanism squeaks and so i am always having to use an external mic to capture audio, not to mention it doesn't always turn on when i want it to, rather has a mind of its own as to whether or not the record button will work and so when A said go for it i set out to find juuuust the right new video camera for my needs. This is somewhere between the hobbyist and professional filmmaker, otherwise known as the "prosumer" category.
Thus, after reading most everything i could find about different makes, models and technologies, i decided and purchased the Sony HVR-A1U [below] which as far as i can tell is the biggest pro camera in the smallest, most affordable package.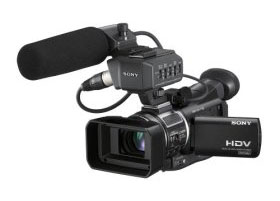 It wasn't an easy choice, as i am and have been a fan of Canon digis for years, however, the XL2 is so HUGE, HEAVY and lacks many of the features of the A1U, not to mention, sounds like quite the power hog.
The HVR-A1U, on the other hand, is a fiesty lil jobby that is not only compact and thus easily maneuvered but also uses juice efficiently, largely in part to CMOS technology which replaces the 3 CCD setup the XL2 uses.
CMOS imagers were originally developed by NASA for the Hubble telescope (all consumer electronics trickle down from the space program, don't they?). CMOS has been used successfully in digital still cameras for awhile now and has evolved into being practical and affordable for use in prosumer video cameras. It uses very little power compared to CCD chips, is cheaper to manufacture, and does not exhibit vertical smear of highlights like CCD chips do. The only down side of CMOS chips is reduced low-light sensitivity. This camera has a 2.97 megapixel CMOS sensor and in addition to video you can shoot still images and store them on Memory Stick at a resolution of 1920×1440. While recording video the resolution of still images is limited to 1440×810 but sheesh big deal, i'm not using it for that anyways.
Oh, and my lil friend here can shoot in both HD and DV formats, has dual XLR audio inputs and weighs in at a pound and a half.
SOLD!
=
c