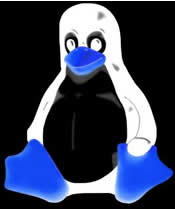 kids obviously don't have as long of a history with Windows as the adults. What about them?
I wanted to find out for myself so I put Linux to the test with the two most demanding public school students I know — some pals' kids.
I loaded Xandros Professional 4 onto an old Compaq Presario 2500 (I tried SLED 10, Ubuntu and an earlier version of Xandros, but Xandros Pro 4 did the best job of recognizing all the hardware and connecting to the Internet.) I put the notebook in front of the 11-year old daughter, bookmarked her webmail URL, set her up with a Google Docs account for her homework, and showed her how to use Pandora to play her favorite music. And then I walked away; a half-hour later I walked back and she was knee-deep into a Flash-based game on Disney.com via her Firefox browser. She looked happy. She later wrote a draft of an email on Google Docs and then sent it to me. Among other things, she wrote, "Thanks."
Later in the day, I sat the 10-year old son down in front of the laptop. I set him up the same way as his sister: webmail, Google Docs, Pandora. I left him alone for a half hour and, lo and behold, he found some video games, too.
"So," he asked. "What is the difference between Linux and Windows?" I tried to explain but it was a waste of breath. "What difference do you see?" I asked back.
"Nothing, really."
Interesting…
=
c