I eat too much. It's simple. I eat good things because I love to cook so they are fresh and wonderful but I just eat way too much. So, I started looking at alternatives. I started learning about liquid diets. Soylent. Not for me, but interesting, nonetheless. This learning led me to discover Plated, a service that delivers a box to our door with the exact ingredients needed to cook healthy and delicious meals, with portion control built in. Sounded interesting enough to try.
As I said, I love to cook and my friends and family tell me I'm pretty good at it. I love spending a morning or afternoon searching Chicago's ethnic neighborhoods and markets (there are dozens of them!) for this ingredient or that. My sous chef is my three-year-old boy, who seems to enjoy it, too (he has his share of fave markets). Sometimes, though, we end up with wasted ingredients or even meals if he doesn't like something. Three-year-olds are like anyone, only moreso. Sometimes they like the way something looks more than how it ultimately smells or tastes. Sometimes, too, we end up with extra of one ingredient or another because we bought more than a recipe required. Space wasted in our small kitchen is not awesome. So, needless to say, we have a few challenges in the kitchen. This seemed like an interesting option.
There are many reasons why this might work like gangbusters for us. Even though my little guy has his staples, I still feel it is important to expose him to all sorts of wonderful foods and styles of cooking as a toddler. He can decide for himself what he likes. Otherwise, it is easy to get into ruts cooking the same things over and over, again, depriving him of the variety I think is so important.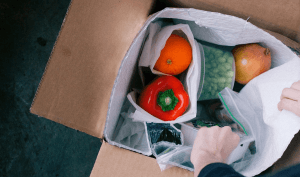 My first impressions? Plated nails it. Plated takes the complexities out of the joy of cooking. I think of it like this: imagine we want to make a movie. First, we have to do all the heavy lifting: casting and shooting. That's a lot of work. Editing is the fun part, painting with the images and sound. That's cooking. Imagine cooking without the need for casting or shooting (the planning, shopping, and measuring). We just get to cook – prepare, chop, saute' and all the best parts! The results are pretty amazing (and fun).
Tonight, the little boy and I cooked Vietnamese Caramel Fish with Vermicelli and Bok Choy. We really enjoyed both the making and eating!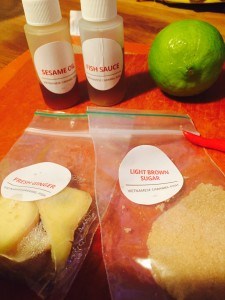 The ingredients are packed with careful attention to detail, insulated in a cool, space-y bubble wrap and ice packs, touted to protect it all for up to 24 hours if you happen to be unavailable for some reason. They thought of everything. This is important. For example, if you're at work when it is delivered, the box will be fine for at least a day. There's a note inside that says once taken out, the ingredients will stay fresh in the fridge for up to four days.
Upon opening the box, the level of attention to detail is clear: every single ingredient is labeled nicely and, upon removing, arrived fresh as can be, sourced from high quality producers who do so thoughtfully and sustainably. Here's how it works.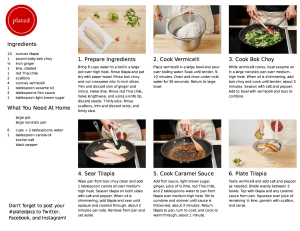 Each recipe comes with a beautifully designed card which shows us what we're going to make, step by step instructions and some gorgeous photos. If a fledgling chef has any questions, before they begin they are answered. If you still have some, there is a video (with high production values) we can watch, too. Little kids seem to love these, at least, mine does!
All told, the ingredients were advertised as two portions. We ended up with three, so that was cool, even cooler because the way it works is like this: Plated requires a subscription. It's not a one-off sort of thing. We started with 3 recipes. Each recipe (or meal) has a minimum of 2 plates but can be 4 or more, depending on what's needed. Plates start at $12. We chose to stick with fish and vegetables, 3 recipes per week, an inexpensive way to try it. There are organic meats, pork and shellfish, too. Some of these cost more. We are sticking with the $78 per week plan for now, 3 recipes, 6 plates, $12 per plate just to see how it goes. If, like tonight, we get 3 plates from a single recipe, that gives us 9 plates total, which brings the cost down to $8 per. Not a bad addition to our routine.
So, it aligns with our routine, helps us waste less food, frees up space in our kitchen and saves us a little time for more playing and less shopping. Might actually be better for the environment – except for the packaging but I will address that at the end.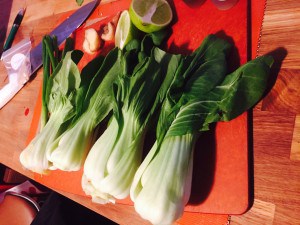 I haven't ever really done the math on what we typically spend on groceries per week. However, if we start doing Plated regularly, I'd account for the time it saves as a part of the cost. Time is even more valuable, if you ask me.
As soon as we opened the box I thought to myself "there is a lot of packaging". Every shipment produces a big cardboard box, the insulating bubble wrap, ice packs and the little containers (think travel shampoo bottles) and baggies the ingredients arrive in. How can they improve? Likely they will as the service evolves and more people subscribe. I can imagine it working like more traditional CSAs, where we simply return the packaging to be reused. They are already helping us reduce our food waste. They will continue to make more improvements, too.
So, would I recommend Plated? You bet. If any of what I shared sounds cool, give it a try. Subscriptions can be cancelled as quickly and easily as they're started. I enjoy the variety, it's good for us, the portions are helpful for an over-eater like me, it's fun and saves time in the car and shopping – time that can be focused on more important things – like the hard work of play. Thanks for reading.