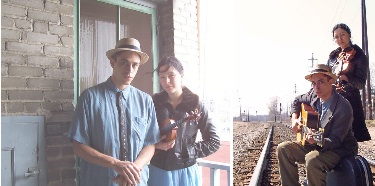 Roma di Luna is an acoustic duo whose music recalls early 20th century folk and country set to modern times. As husband and wife, Alexei and Channy Casselle co-write songs that are plaintive, sometimes dark yet "hauntingly soothing" noted for "simple instrumentation along with piercing, emotively beautiful vocals." The songs are presented in a stark manner, keeping them true to the influence of Americana roots. Lyrics soaked with confessions and hard truths pay homage to the storytellers and spiritual revelations of the folk and gospel tradition. Alexei Moon Casselle is better known in the underground hip-hop scene as an MC under the alias Crescent Moon as a former member of Oddjobs, and current member of Kill the Vultures, occasionally touring with Atmosphere as Slug's hype-man. Channy Moon Casselle is a classically trained violinist who has played with various bluegrass groups and has already blossomed into a talented singer/songwriter. Roma di Luna first emerged on the scene through weekly busking performances at the downtown Minneapolis farmer's market beginning in 2004. They played traditional numbers from Alan Lomax songbooks on a corner next to meat vendors and vegetable farmers, eventually working more of their original songs into their spirited sets. Their first visit to the recording studio in Spring 2006 resulted in the track "These Tears Ain't Mine" which was featured on the Twin Town High 2006 compilation CD and has gone on to garner a local buzz and regular airplay on local radio.
They're playing tomorrow night with The Pines.
9:30 sharp at the 400 Bar.
meanwhile, listen to me blather on about this little stretch of the Mississippi where we live and the music coming out of it…this return to the roots is beautiful.
=
c