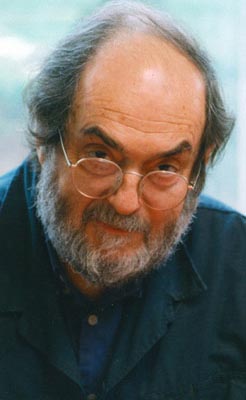 Few filmmakers' work is so instantly recognizable as that of Stanley Kubrick. Beautiful, precise composition. Elaborate tracking shots. Powerful acting. Deep, thought-provoking themes. Kubrick put his unique stamp and vision on every film he made.
Despite his relatively small output, probably no other director made great films in so many different genres, from science fiction (2001: A Space Odyssey) to war films (Full Metal Jacket), historical drama (Barry Lyndon) to comedy (Dr. Strangelove), horror (The Shining) to psychosexual drama (Eyes Wide Shut).
Kubrick's influence on the art of filmmaking is matched by only a precious few fellow giants, and his body of work will certainly continue to thrill and intrigue audiences, critics and future filmmakers for years to come.
Read more on Kubrick and the Documentary, Stanley Kubrick: Life in Pictures
The son of a physician, Kubrick was born in New York City on July 26, 1928.
When he was just 16 and in high school, Kubrick shot a photograph of a news vendor the day after President Franklin D. Roosevelt died and submitted it to Look magazine. Look printed the photo and soon hired him as a freelance photographer.
After creating a photo essay on boxing for Look, Kubrick used his savings to make a 16-minute documentary film, Day of the Fight, in 1950.
Later, and after making two further documentaries, Flying Padre and The Seafarers, Kubrick persuaded family members to invest money in a short feature film about a fictitious war called Fear and Desire. He managed to get the film shown in a few art-house theaters in New York, and quickly began making a name for himself.
Probably one of the first true independent filmmakers, Kubrick followed up with two low-budget crime thrillers, Killer's Kiss and The Killing, then made his first major studio film, the powerful antiwar movie Paths of Glory, starring Kirk Douglas, in 1957.
He went on to receive Best Director Academy Award® nominations for Dr. Strangelove, 2001: A Space Odyssey, A Clockwork Orange and Barry Lyndon. Each of those films also earned Kubrick Best Screenplay nominations, as did Full Metal Jacket.
In addition, Dr. Strangelove, A Clockwork Orange and Barry Lyndon received Best Picture nominations.
Kubrick's only Oscar® came for the special effects in 2001: A Space Odyssey.
In 1997, he received the D.W. Griffith Award for Lifetime Achievement from the Directors Guild of America.
taken from his official site: http://kubrickfilms.warnerbros.com