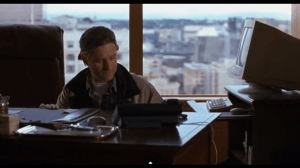 I am going to let all five of you who might be reading this in on something:
somewhere along the line, without meeting him or seeing this film, I decided to aspire to be like Daryl Zero. I often speak silently to myself, sometimes even out loud to others in silly, seemingly nonsensical phrases that carry beneath the surface great depth. Only my very closest friends pay attention to, notice, or "get" this. All others consider me a babbling fool, which I do not debate. I am that, too.
The former, however, is a quality I no doubt inherited from my dad, who raised me by speaking this way to me as he illustrated the complex way the world works. He is equally misunderstood though equally and oppositely gifted in a verbal, literal sense. To this day, he cannot spell the word 'soccer' but he can, with a quick flourish of words, render the entire room captivated by his spirit and expressive way of communicating ideas both dark and whimsical. It is as if his odd, though compelling, phrasing holds insights we can unlock if only we stop a moment to consider and decode them.
Daryl, here, demonstrates a very similar manner of doing this. We may have all fallen off the same tree somewhere. In this clip, he says something that, on the surface, seems silly. Thinking about it again, however, reveals some heavy existentialism. I love this. Some of my favorite art does this successfully.
When wisdom is successfully embedded in silliness, does it have the greatest chance of getting through to us?