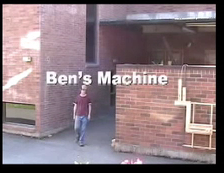 check out this of a kinetic wood sculpture with aspects of steam technology that my cousin made in Bellingham, WA.
you wondered if being a bit "odd" was a family trait? here's proof!
seriously, tho, that is COOL, Bennie. nice work, cuz. next stop, perpetual motion sculpture through the eyes of the proletariat.
; )
=
c