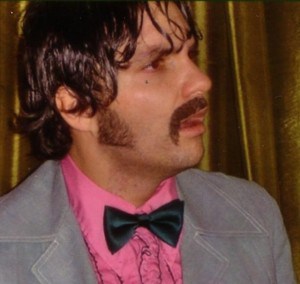 Here we see a picture of David Browne posing for his pseudo-wedding portrait [long story] back in 2006. He and his bride, Sarah Lukacs, are old pals of ours from our days living in Seattle, where these two still live and are always up to one scheme or another.
His latest is Garage Sale Jukebox.
There's a story. It's long but I'll see if I can make it palatable: As a young whippersnapper of a lad, Dave was given a chance to be a DJ on a UK based local community radio station by Ray Darrel. So he did it. But, because he was a young whippersnapper of a lad far more interested in being out on a Saturday night than in presenting a radio show, he quit. Fast forward twenty years and Ray tracks him down on the other side of the world and they hatch this diabolical scheme to use technology to put Dave back on the airwaves on a Saturday night. A radio show within a radio show or, as he likes to call it – A radio showlette.
So, this is a series that takes the notion of DIY music and gives you, the listener, the stories behind some rare and long forgotten cuts from the 50's and 60's that were recorded in a garage, sound like they were recorded in a garage or Dave bought from a garage sale. If you want to sound all hip and cool at your next house party or impress the nerdy guy working behind the counter of your local record store then this is the series for you.
I've been enjoying these, listening to them over and over as my music history knowledge needs guys like Dave. He's one clever bloke and has a hell of a radio voice, to boot : all the ladies agree.
Check out Episode 1: The Pioneers and board the train to rock and roll enlightenment.
=
c