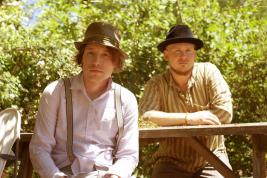 The Pines' latest album, Tremolo, has earned some great reviews fresh out of the chute, including
Penguin Eggs, which reviewed it in this month's issue:
Potent, poignant, minimalist country from Iowans David Huckfelt and Benson Ramsey (son of Greg Brown sideman Bo, who produced this record). The duo spin spare, haunting melodies and imagistic words over deceptively gentle intertwinings of acoustic and electric guitar, stand-up bass, keys and drums.

But song after song, with soft, wearied voices, they reveal a lyrical world view both thoughtful and tough, keenly attuned to harsh realities and the glimpses of consolation that peek through the solitude and loss inherent in life. "We surrender, just to survive/ But no matter how hard you try/ No, you can't put the tears/ Back into your eyes," Ramsey sings (with the help of his dad) on Shiny Shoes. What's remarkable is how such an unsentimental outlook is married to music at once so fragile, so gravid and, ultimately, beautiful. If I were a betting man, I'd say watch for this album on a lot of critics' top 10 lists for 2009.