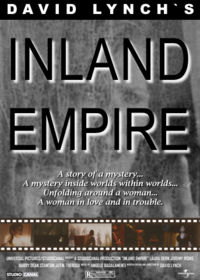 When asked about Inland Empire, Lynch responds that it is "about a woman in trouble, and it's a mystery, and that's all I want to say about it."
Most of the film's details have been kept under wraps. It's set in the Riverside/San Bernadino, California area just east of Los Angeles, which is also known as the Inland Empire.
In a 2005 interview, Lynch spoke about the filming process, saying that, "I've never worked on a project in this way before. I don't know exactly how this thing will finally unfold… This film is very different because I don't have a script. I write the thing scene by scene and much of it is shot and I don't have much of a clue where it will end. It's a risk, but I have this feeling that because all things are unified, this idea over here in that room will somehow relate to that idea over there in the pink room."
Much of the film was shot in Łódź, Poland. Some filming was also done in Los Angeles, and in 2006 Lynch returned from Poland to complete filming. It is unknown how much of the film was actually even shot in the Inland Empire cities, as Lynch never obtained the necessary filming permits which are required for both indoor and outdoor filming in the area.
Lynch would hand each actor several pages of just-written dialogue each morning as they arrived on the set each day.
The film differs from any other Lynch film in that it's the first to be completely shot in digital video. He has stated that he will no longer use film to make motion pictures.
Inland Empire also continues Lynch's tradition of naming the project after the location where it is set, with the location actually having little to nothing to do with the film itself.
Lynch spoke of distributing the film independently, saying that with the entire industry changing, he thought he would attempt a new form of distribution as well. More recently, Lynch has worked out a deal with Studio Canal in an arrangement that will allow him to distribute the film himself, through digital and traditional means.
It debuts in the US on December 15th.
wahooOOO!!!
=
c