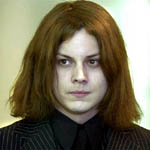 Jack White does not have to play at being a rockstar. He was built to be the juggernaut that he is who shakes and wakes the spirit right up in the crowd while the sonic wail shakes the plaque off their teeth.
White is forbiddingly private when it comes to his personal life, and is obsessive about his music.
Yes, he married English model Karen Elson in a canoe on the Amazon River in Brazil. She recently gave birth to the couple's first child, daughter Scarlett Teresa, on May 2, 2006 in Tennessee.
Yes, for reasons he doesn't want to go into, he beat up Von Bondies frontman Jason Stollsteimer in a Detroit nightclub a few years ago.
And yes, he wrote a jingle for a Coca-Cola ad, but he'll defend his position. He loves the drink, relished the chance "to write something particular along one theme of love in a worldwide form" and fell in love with the sheer art of the ad.
"You'll understand when you see it," he says. [you can watch it here, if you likey]
Interest-wise, all the strange relationships and integrity-challenging decisions pale in comparison next to the contribution he's made to the cause of music.
"A lotta the things I like to do, I like to pick the hardest way to do it," White says. "That's the only way I can be proud of it. If you say, 'Oh, that song went to No. 1,' and you say, 'Somebody else wrote it, we had three producers doing it, we recorded it on a computer and we spent half a million dollars on the video,' that's kinda hard to be proud of.
well, he doesn't need us to say it but we are, indeed, proud of you, Jack White.
Thanks for sharing that energy with us last night at First Ave.
=
c