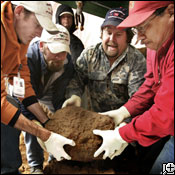 Oct. 17, 2006 — Scientists were excited when they pulled a
154-pound meteorite from deep below a Kansas wheat field, but what got
them most electrified was the way they unearthed it.
The team Monday uncovered the find 4 feet under a meteorite-strewn
field using new ground-penetrating radar technology that someday might
be used on Mars.
It was that technology which pinpointed the site and proved for the
first time that it could be used to find objects buried deep in the
ground and to make an accurate three-dimensional image of them.
Blogged with Flock